Shop
Always Unique and Unexpected
If you're looking for run-of-the-mill shopping, you've come to the wrong place. Our shops are locally owned and operated with merchandise ranging from vintage books to handmade cashmere sweaters.
Experience the lost art of personal service, where questions are not only welcomed but encouraged. For one of a kind gifts or treasures for yourself, friends, or family you'll find it in Camden.
Dine
Food Glorious Food
You won't go hungry in Camden. With something for everyone, every taste, and every budget the only hard part is choosing where to go or what to eat.
Here's a sampling of a few noteworthy restaurants that have helped make Camden and the Penobscot Bay area a true "foodie" destination.
Francine Bistro (JBF nominee Brian Hill)
Long Grain (JBF 2017 Best Chef Northeast nominee Ravin Nakjaroen)
Primo - Chef Melissa Kelly (the only female chef to be a two-time JBF winner)
Natalie's - Executive Chefs Shelby Stevens and Chris Long
Pig + Poet - Group Executive Chef, Justin Perdue and Chef de Cuisine, Jonah Haggett
Youngtown Inn - Chef/owner Manuel Mercier draws upon his French heritage to create an array of traditionally prepared dishes.
But, life isn't always white linen tablecloths and fine china. Grab a lobster roll at one of the many lobster shacks or a sandwich to go at the town's deli for your day's excursions. From fancy to casual, Camden has something for every palate.
Explore And Discover
By Land or By Sea
Camden Hill State Park
Located a few minutes north of Camden, Camden Hills State Park offers year-round trail activities and camping. Famous for the panoramic view of Camden Harbor and Penobscot Bay from the top of Mt. Battie, which inspired Edna St. Vincent Millay's poem "Renascence," the park still inspires wonder in visitors today. Click here for more information.
Camden Harbor
Where the mountains meet the sea. That's often used to describe Camden and it's true. Camden Harbor may be the prettiest harbor in all the US, perhaps the world. Mount Battie forms the backdrop for this stunning harbor, providing refuge from northwesterlies, as well as some of the most accessible hiking boaters will find anywhere. Click here for more harbor information.
Schooner Cruise
No trip is complete without some adventure on the open water and Camden makes it easy with a wide assortment of schooner ships and tours. Check out some of the popular options below.
Schooner Heron

Schooner Appledore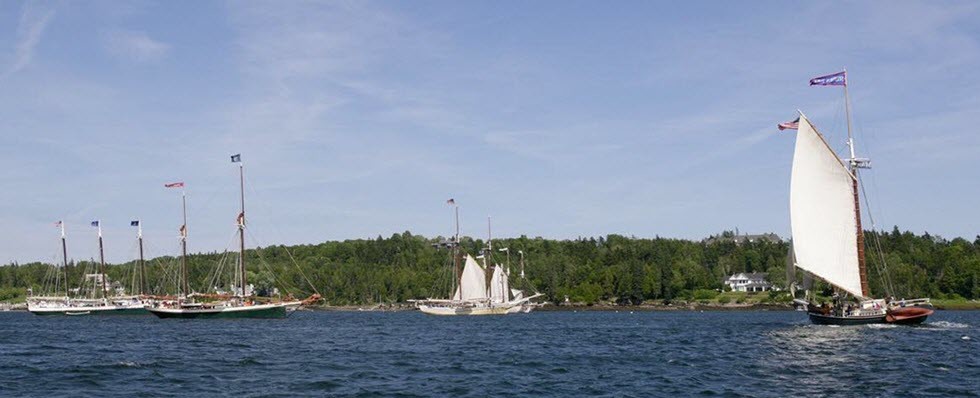 Arts And Music
Create Your Own Composition
Activities abound along the coast and you'll be at the center of it all here in mid-coast Maine.
Lighthouses dot the coastline and are a wonderful place to enjoy a sunrise or sunset. Did I hear a proposal?
Christmas by the Sea
From shopping to Santa and all sorts of performances, it's a great time to celebrate and socialize with friends and visitors old and new. First weekend in December
U.S. National Toboggan Championships
The annual Toboggan Nationals boasts a field of over 400 teams and nearly 1,300 racers, with a spectator base of more than 5,000 over two days of heated competition. The limited number of team slots sells out and the crowds of spectators make the Ragged Mountain Recreation Area the most popular place to be in Camden. The first weekend in February every year.
Camden Harbor Juried Arts & Crafts Show
This huge annual outdoor show held in both the Summer and Fall celebrates the work of more than 100 artists and artisans in Camden's dazzling Harbor Park. July & October
Maine Lobster Festival - August
Are words necessary?
Camden Windjammer Festival - September
The Camden Windjammer Festival is a community-led celebration of Camden's maritime heritage and living traditions held annually in Camden over Labor Day weekend.
Camden is an all-season, all-year town and we want to show you the best of it! Oh, did we forget to mention Elms of Camden is now open year-round? Now there is no excuse not to visit Camden in the Fall or Winter. We'll have a fire waiting for you.
A complete visitors guide for all things Maine is available on the Visit Maine website.
Education
From Wine to Wood
Camden is a great place to get an education. An education in FUN. There are great classes on wine, cooking, even fine woodworking. Listed below are a sample of classes or educational opportunities available in or around Camden.
Center for Furniture Craftsmanship
Salt Water Farm Cooking School
Cellar Door Winery
Maine Wine Trail
The Apprenticeshop